Those who spot the difference choose Quality Bengal Kittens
Updated December 2022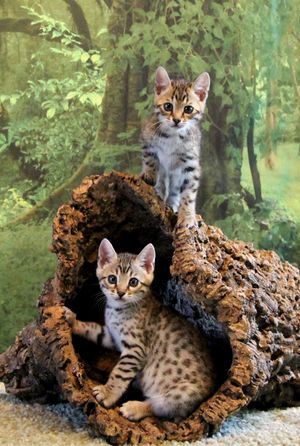 Bengal cats brought our lives together; they will remain in our lives until we leave this earth.  

Consistent quality draws people to our cattery.  We specialize in retaining wild essence - the look of tree-dwelling small wildcats - combined with confident, intelligent, outgoing personalities resulting from selective breeding and intensive socialization from being raised underfoot in our home with our family - including dogs. Our breeding cats are tested for PK Deficiency, PRA-b, and HCM.  Heart testing since 2004 has resulted in multiple generations of cats whose hearts are disease-free.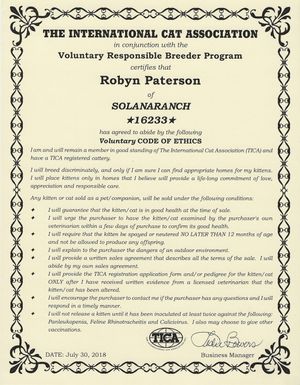 We show inTICA, CFA, and LCWW. We participate as voting members of CFA Bengal Breed Council. Robyn was elected by Bengal breeders worldwide to represent them on the TICA Bengal Breed Committee, and Jon serves as the Health Liaison between The International Bengal Cat Society and the veterinary world. We are founding members of LCWW. You will not find two people more dedicated to the health, welfare, and betterment of the Bengal breed.   
Please read  Purchasing a Bengal for more information about how the Waitlist works.  It also explains the payments and our one price - $2200 - method. Anytime you send us money, you receive a digital, legally binding contract to assure you we are not a scam.

While we do not ship our kittens, people fly to us to pick up their Bengal kittens.  Look around; our Bengal cats are different.  We are different.  We encourage you to look elsewhere.  We challenge you to find wilder-looking SBT Bengals and more thoughtful, experienced Bengal cat breeders in any other program - worldwide.  People who spot the difference choose us.
When we travel to shows, we can bring kittens with us to these locations.  We will be traveling to Portland, Oregon February 4-5, 2023.
Available Bengal Kittens - Ready Now
Our friends Ally and John have kittens from our cats. Ally and John welcomed us - including all our cats and dogs - at their ranch when we evacuated for two weeks in September due to the Mosquito Fire.The kittens have the same health testing and selective breeding behind them as our cats. They were raised with the love and care of Ally, John, three Irish Wolfhounds, and one terrier who keeps everyone in line. They are well-socialized with dogs and people. The kittens have great personalities and would make good pets for families. Now that the kittens are old enough to joint heir new families, they have come to our house so we can connect them with the right homes. 

If interested in these kittens, please complete our Bengal Kitten Application. In the comment box, please say you are interested in Trixie's Kittens.