Why Buy from Quality Bengal Kittens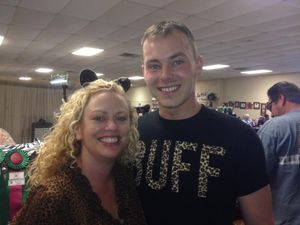 Bengal Cat Commitment

When looking around for a breeder, you want to find someone who puts breed before self.  How do you find this person? You look to see what the person does that benefits the breed, not just themselves.  We are here to better the world of Bengals.  Evidence of that is our website.  We work to educate pet owners on how to provide for a Bengal cat, and we work to educate breeders on how to breed better Bengals.  Our website is used by many breeders to help educate their buyers.  Bengal fanatics everywhere use this site as a primary source of information.  We have been breeding Bengal for over 20 years, and with that experience comes knowledge that we pass on to others. We are constantly learning and constantly teaching. 

We also serve the Bengal cat in several capacities.  We are both members of the CFA Bengal Breed Council.  To be a member, you have to show in CFA and actively participate in refining the standard.  

Robyn is an elected member of the TICA Bengal Breed Committee. TICA is comprised of Bengal breeders from all over the world, and there are only seven seats on the Bengal Breed Committee.  Robyn was elected by other Bengal breeders to represent them on the committee.  In addition, Robyn has created and delivered a well-received Bengal presentation to TICA judges to help them understand the breed standard.
 
Jon was asked to serve as the Health Liason for The Internationals Bengal Cat Society (TIBCS). While not professionally trained, Jon is able to speak with veterinary professionals at their level.  In turn, he has the ability to translate that information and share the information in laymen's terms with breeders.  He is often sought out by other breeders to help them problem-solve with their veterinarians. 
Bengal Cat Appearance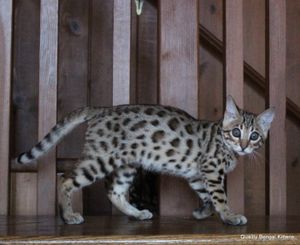 Most people are attracted to Bengals due to their appearance.  Quality Bengal Kittens produces a consistently distinct appearance.  We have very specific breed goals, and we have established a priority of physical characteristics that distinguishes our cats from other Bengal breeders.  Regarding our cats' physical appearance, our priority is to maintain as many attributes of a southern subspecies of Leopard cat as possible with a focus on the structure of the cat. In short, if you were to imagine our cats in an all-black coat, they would still look wild due to their physical traits.  For more explanation of what this means, please read the article on Bengal Type.

You may be asking yourself - what is the flip side?  The flip side is that our priority is not large rosettes on a glittery, clear coat, which drives most Bengal breeding programs. To us, the proportionately over-sized spots on the clear glittered coat look like a cartoon version of a wildcat.   DNA descends in blocks.  For an unexplainable reason, the structure of a wildcat is very difficult to put on to Bengals with oversized markings.  In short, if you image these cats in an all-black coat, they would not have any traits that identify them as a Bengal. You will find many Bengal catteries that prioritize rosette size, glitter, and coat clarity over the natural look, and if this is what is important to you, we are not the right breeder for you. 
The bottom line - our focus is specific; therefore, we have consistency in what we produce.  If you have noticed our cats' distinct look, you should consider buying from Quality Bengal Kittens.
Bengal Cat Health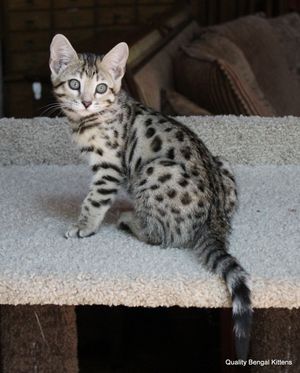 Buying a live animal has no guarantees.  No one can guarantee any animal will not become sick or develop a disease.  Therefore, allowing any pet into your heart is a risk.  The best guarantee against health is for you to meet us and see for yourself our love for our animals.  We don't want to see them sick, so we take good care of them.  We don't want people who buy kittens from us to suffer untimely loss, so we do what we can to ensure that we sell healthy kittens.
The two genetic tests available for Bengal cats are PK-Def (PK - Deficiency) and PRA-B Bengal Progressive Retinal Atrophy.  All of our cats have either been tested or are from parents have been genetically tested to not have these diseases.  We can guarantee your kitten will not get either of these two diseases.

The most common disease in cats is heart disease.  For this reason, our cats visit Board Certified Cardiologist Dr. Lori Siemens for an echocardiogram on their hearts each 12 to 18 months.  Dr. Siemens has been scanning Robyn's cats' hearts since 2004, and Jon started scanning his cats' hearts in the UK when he started breeding in 2007.  Scanning cats to older ages provide more security.  Since we have been testing for heart disease for over ten years, we have cats in our pedigrees who are still testing negative for over ten years.  In most cases, even when breeders do test (many don't), they stop testing their cats at under five years old.  This doesn't provide the same security as testing cats that are over five years old.
The bottom line - illness, suffering, and death are not enjoyable experiences, and we couldn't breed cats if we weren't finding joy in it.  We utilize all resources available through our regular vet, specialist vets, and genetic testing to bring only the healthiest Bengal kittens into this world.
Bengal Kitten Temperament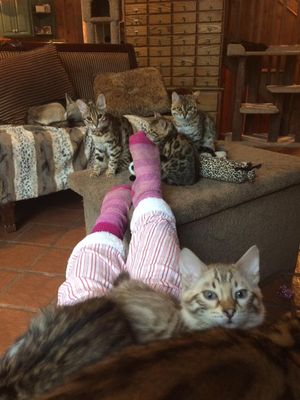 Like health, temperament is not a guarantee, but after years of experience, we have figured out the secret ingredients to creating confident, friendly cats. Temperament is a combination of nature and nurture.  Our experience has taught us that the sire plays a more genetically powerful part in determining disposition. Therefore, we remove any shy and or reactive males from our breeding program and only use confident, friendly boys.  
But it doesn't end there.  Kittens must be raised in a home and have regular interaction with people. While we give the moms the peace they need to be settled for the first 5-6 weeks. After that, we move the moms and kittens to the main living area of our house.  Here they are centered in our lives' hustle and bustle, which includes children and the family dogs, Chinook and Dixie.  Chinook. Dixie and the kids make sure the kittens are accustomed to loud noise and fast movement, along with helping Jon and Robyn with playtime.
A comment we frequently hear from people is, "Your cats are all happy."  See for yourself how our house is different from the rest.  Breeders who don't genuinely have a passion for the cats will raise their kittens in tiny cages for inside sheds, barn, garages.  This does not result in the same temperament as those raised as members of a family.
The bottom line -  we want you to be happy with your kitten because we want our kittens to live in happy homes.  All of our kittens are raised in our home, and once they are litter box trained, they have free range of our house.  
To get a sampling of what how our experience can serve you, read some of our articles on Bengal cats.
About our Cattery 

About Bengal Cats

 

Frequently Asked Questions