Purchasing a Bengal Kitten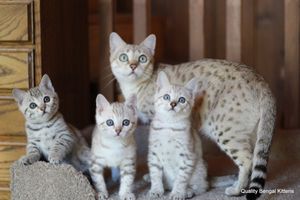 How much does a Bengal cat cost?
All kittens are sold for $2200.  We put the same time, energy, veterinary care, genetic testing into each kitten; therefore, all kittens are priced the same.  There is no price bouncing here at Quality Bengal Kittens.  When you buy from us, you are not just buying a kitten; you are buying our knowledge and experience.  You have educated, experienced breeders who you can consult throughout the lifetime of your cat.
How do you reserve a kitten?
The most serious pet buyers will want to place a $500 down payment to hold a place in line to select a kitten.  Before you do this, we recommend that you scour the internet, comparing our cats to others out there to make sure that a Quality Bengal Kitten is the right one for you.  Placing a down payment secures a price of $2200. We have a proven track record of consistently producing exceptional kittens with the distinguished look of a small forest-dwelling wildcat; therefore, we do not bounce our prices around from kitten to kitten.  All kittens are sold for $2200. We do ask that you decide on a gender as we divide our waiting lists by gender.  You will never lose your spot in line once you have paid your down payment to go on the waiting list.  You can only move up, not down. You can pass on as many kittens as you'd like until the right one is born. When placing a $500 down payment to go on the waiting list, we will ask for an additional payment of $850 when you pick a specific kitten.  Then, the final balance of $850 is due upon collection of your kitten.  
How does the Waitlist work?
First, you want to view our Waitlist to see what types of kittens people are waiting on.  We produce and offer more brown spotted/rosetted male kittens than any other color and pattern.  Therefore, the list will move more quickly for people wanting brown spotted/rosetted Bengal kittens.  Once you are on the Waitlist, you can expect the following to happen.
Kittens birth to four weeks - We will select kittens as keepers - no more than 25% within a month.
Kittens four to eight weeks - We determine a Kitten Selection date and write to the people on our Waitlist to set up appointments to select a kitten.
Once the Waiting List has had the opportunity to pick, then kittens become available to those not on the Waiting List who would like to pick a kitten.
When are kittens photographed?
We photograph the kittens at approximately 6 weeks, 9 weeks, and 12 weeks. The pictures are updated in the albums, which are on our Facebook page.  By placing the kittens on our Facebook page, we can keep them up indefinitely, so there is always a record of our previous kittens.  We also enjoy making a Yearbook each year with all of the kittens' albums from that year.  These books are on display at our benching station at cat shows. 
How long is the wait for a kitten?
How long you wait will largely depend on how specific you are in what you want.  We divide our Waitlist by gender.  We run a female-driven breeding program, which means we keep our females and bring in new males.  This does not mean we don't keep any of our own boys, but we keep more girls than boys.  Our male Waitlist moves much faster than our female list even though it is often longer.  If you have color or pattern traits you specifically want, that could make the wait longer.  The shortest wait time is likely to be for a brown spotted/rosetted pet male kitten.

Do I get to pick my kitten out in person? 
We like to have people pick their kittens in person, but we understand that not everyone can do this.  When we schedule our Kitten Selection visits, we give you a one-hour window of time in which you can visit, do a Zoom call with the kittens and us, or pick through pictures.  We ask that you make your selection at the time of your reserved spot regardless of the method you choose, as we will be moving to the next person just after your scheduled visit.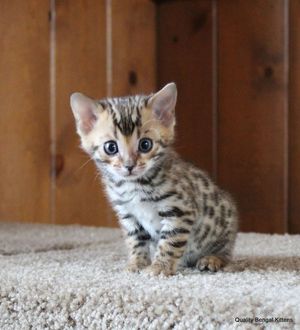 What happens if you are not on the waiting list and see an available kitten that you'd like to reserve?
If you are not on our waiting list but see an available kitten that you'd like to reserve, no problem - send us a private message through the Facebook page or email.   We will ask you to complete our Kitten Application.  If your family is the right fit for the kitten, we will ask for an $1100 down payment to hold the kitten, and the $1100 balance is due at collection.

Why do we keep a paid waiting list?
We no longer keep a non-paid waiting list as we never found them to be reliable.  People would ask to be notified when we had kittens but may have already found a kitten by contacting them.  This wasn't working.  If you'd like to stay informed on our available kittens, please follow Quality Bengal Kittens.  If you see a kitten marked as being for Waiting List, you can send us a PM and let us know that you'd like to be contacted if that kitten becomes available.  We generally have a good idea of whether or not it will as we tend to know what each person on the waiting list is looking for. 


Why are the kittens priced at $2200?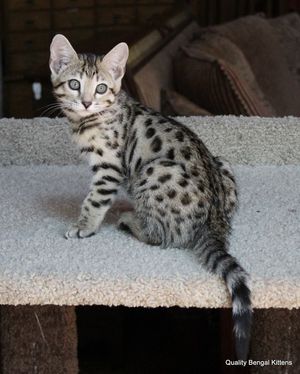 Our kitten price is based on what costs to continue to enjoy our combined passion - raising Bengal cats.  We feed human-grade food, which is expensive, and our cats get all the health tests that are available to them.  We are working hard to try to bring only healthy Bengals into the world.  You will find Bengals that cost more than ours, and you will find Bengals that cost less than ours.  If you do your research, we are certain that you will find we offer the best quality at a good price.  Our kittens are friendly, confident, and well socialized.  Also, they come from heavily health tested parents and are fed the very best there is to offer.  Finally, if you look through all of the previous kittens' pictures, you will see that our quality is consistent.  Our kittens have the distinguishing features of small wildcats: large eyes, rounded ears, puffed nose leather, and a horizontal flow to their coat pattern.  Most importantly, however, what we offer that many breeders cannot is knowledge.  We are here to serve you throughout your cat's life. If you read our reviews, one person refers to us as the "Bengal Encyclopedia."  We pride ourselves on always being on the cutting edge of information in the Bengal world and the veterinary world - we are often the ones who bring the newest information into the veterinary office.  Thankfully, we have found vets who appreciate this instead of feeling threatened by it. 
Do you offer a discount on two kittens? 
 Yes. Bengals often do best with high energy, intelligent companion.  If you commit to two kittens at once, we reduce each kitten's price by $200.  If you come back and buy a second kitten from us, we offer a $200 price reduction on the second kitten.  This offer lasts a lifetime.  We are starting to get repeat customers from people who bought from us nearly 20 years ago.
Do you ship pet kittens?                                         
Unfortunately, we cannot ship pet kittens unless you, or a non-paid representative for you, sees the kitten in person.  The Retail Pet Law prohibits breeders with more than four breeding age animals to ship pet kittens sight unseen.  If you would like to purchase one of our kittens but do not live within driving distance, we are more than happy to meet you at the Sacramento airport with your kitten.  You can fly in, pick up your happy, healthy kitten, and take the next flight back home with your kitten.
Read More about Buying from Quality Bengal Kittens
Thinking About Getting a Bengal Cat?
Why Buy from Quality Bengal Kittens?
Purchasing from Quality Bengal Kittens
Preparing for a Quality Bengal Kitten
The Difference between Pet, Breed, and Show 

We've also started a blog about Bengal cat health, nutrition, behavior, and care.  You may find helpful information on our QBK BLOG.

Please fill out the form to go on our Waiting List.
Bengal Kitten Application

Please Email Us for more information